Product Review
2.8mm Foscam lens fi8905w 9802w FI9804W Insteon 75791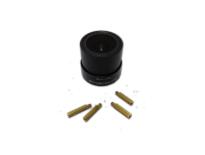 $69.99

(5 of 5 Stars!), Saturday June 01, 2013
by Michael Fuchs
I have six FOSCAM FI8905 cameras and have upgraded two with this wide angle lens. The clarity and quality of the picture is excellent. It provides a very wide angle of view with surprising little distortion (considering the sensor size).
You really do have to check your camera for the type of mount FOSCAM used. There are three according to the pictures RageCams provides, with no external indication that they are different. I have encountered two of the three types so far (V1 and V3).
This is definitely a high quality lens, and I would recommend it to anyone needing the coverage.